I spent a week in Ulaanbaatar and the surrounding countryside of Töv, the city's province. It was pure -28 degree Celsius magic. It also wasn't my first trip there; according to my parents, we traveled through the country when I was 1.5 years old. It was a memorable visit for them because I caught a high fever on the Trans-Siberian Express from which they thought I might never recover. And now, here I am, having been to Mongolia twice!
Here are some observations from my short time there last week..
Millennial Pink is a surprisingly naturally-occurring, if not abundant colour in wintertime Mongolia. I honestly can't believe no one mentioned this before I went; the roseate sunsets over snowy steppes can be heart-stoppingly beautiful. Unfortunately, iphone photography captures only a fraction of the experience. But close your eyes and imagine as you drive towards a flat horizon as a refulgent pink glow spreads over half the snow and sky.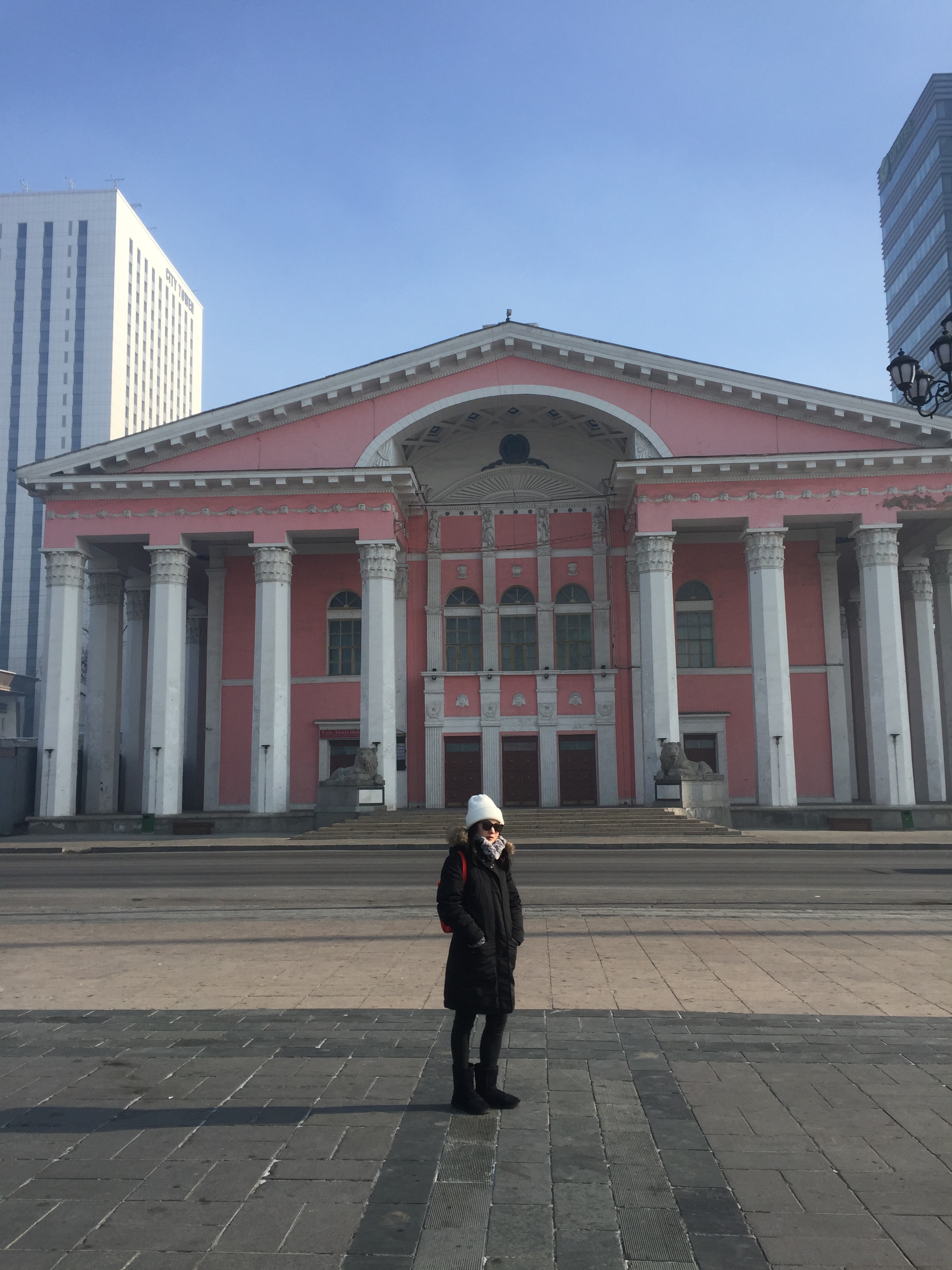 Photos left to right: Zaisan Memorial; me doing another Invisible Man outside the Opera House; I wish I could read Cyrillic, cos I would be able to tell you what these jelly marshmallow pastries are called; close up of my pink pastry; bonus shot - fermented camel milk
In the city too. We weren't quite in Florida nor Tijuana, but Ulaanbaatar has its share of pink foods and facades. From the historic opera house building, to the little shops and restaurants we saw near the city's notorious Narantuul Black Market, as well as the Zaisan Memorial, a mural created by the Russians to commemorate the allied Russian-Mongolian forces that died during WWII -- all the pinks really stood out against the snow and sky.
More on Russia: According to our guide, it was Mongolia's lifesaving donation of traditional felt - coats, boot covers and uniforms, that helped Russia prevail against Nazi invasion during the winter of 1941. The German soldiers, many of whom came in their summer uniforms, succumbed to the extreme cold after a matter of months.
Besides the varying degrees of pink, outside the city every kilometre we drove led to new moments of jaw-dropping wonderment.
"We Mongolians, are barbarians," our guide proudly said in his impeccable RP accent on our last day, explaining that the spirit of rebellion lives on in the heart of nomadic pastoralist culture on the steppes. Also, note that for professional PR purposes he might have played up this image a bit, but I am personally intrigued by the love/hate relationship many Mongolians seem to have with this "warrior" image whether as a global stereotype, historical archetype/folk story told by grandma, or as a national brand.
And most likely because I was a tourist, I also noticed the term "half-wild" is used a lot. When we went dogsledding (no whips or chains involved!) "Don't touch those dogs," our guide said, when I asked if I could. "They're half-wolf. Half-wild."

When we rode Mongol horses on that same blustery afternoon -- my cheeks were crazy wind-chapped even with a balaclava + polarized sunglasses in a probably very creepy-looking invisible man combo, we saw more ponies on the way. "Those horses are owned by locals, but they're left out to graze wherever they want," said the guide. "They're half-wild."
From the pasture-less animals, to the natural terrain, it seems like many things in Mongolia are described as "half-wild". The extremely cold but beautiful rural back roads we visited are a place where the worlds of getting seamless cellphone reception and getting hypothermia can coexist; I can't help but think "half-wild" is just another way of describing the multitude of life's boundless possibilities, sometimes harsh sometimes inconcievably wonderful, sometimes all at once.

--
PS. If anyone is looking for -30ish C. what to wear/what to bring tips for Mongolia, let me know and I'll gladly post some here. Also highly recommended is the tour company we went with. They are the best.